2021 Cadillac Escalade Towing Capacity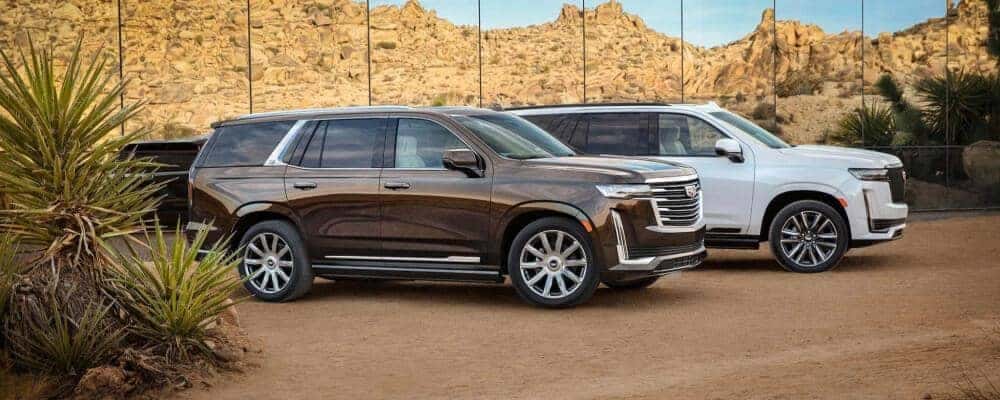 With the proper equipment, the 2021 Cadillac Escalade towing capacity reaches up to 8,200 pounds. Unlike many other models, where reaching the maximum towing capacity might require a trim upgrade, you can reach the most impressive Cadillac Escalade towing specs with the standard engine and 2WD.
How much can a Cadillac Escalade tow in your favorite configuration? Compare engines, wheelbases, and drivetrains with Cadillac of Turnersville before you get behind the wheel.
Cadillac Escalade Towing Specs by Configuration
Upgrading with the turbocharged diesel engine, four-wheel drive, or an extended wheelbase will raise your vehicle's base weight and contribute to slight decline in towing capacity. However, across the full range, the Cadillac Escalade towing capacity never disappoints:
Cadillac Escalade Towing Capacity (Standard Wheelbase)
With 6.2L V8 and 2WD – 8,200 pounds
With 6.2L V8 and 4WD – 8,000 pounds
With 3.0L Duramax® and 2WD – 8,000 pounds
With 3.0L Duramax® and 4WD – 7,800 pounds
Cadillac Escalade ESV Towing Capacity
With 6.2L V8 and 2WD – 8,100 pounds
With 6.2L V8 and 4WD – 7,900 pounds
With 3.0L Duramax® and 2WD – 7,900 pounds
With 3.0L Duramax® and 4WD – 7,700 pounds
If you're planning to do a lot of heavy lifting, make sure to opt for the Escalade SUV's Heavy Duty Trailering Package; it's required to reach the maximum towing capacity with any model. You'll also want to carefully review any and all towing information in your owner's manual.
Have questions about the Cadillac Escalade towing specs or Cadillac Escalade maintenance? Contact us to get the answers your need before you visit.
---
2021 Cadillac Escalade Engines
You've seen that this massive SUV offers plenty of power, but are Cadillac Escalade SUVs really good for towing, at the end of the day? Make no mistake: the Escalade may offer a smooth, refined, and elevated ride, but it's an exceptionally hard worker, too!
The proof is in the powertrain:
Power and Torque: On any trim level, you can choose between a 6.2-liter V8 engine with 420 hp and 460 lb-ft of torque, or a 3.0L Duramax® Turbo Diesel engine with 277 hp and 460 lb-ft of torque.
Gas or Diesel: Both engines offer the torque you'll need to get a heavy trailer moving down the roads of Mount Laurel, NJ or South Jersey, NJ. Each also comes paired with a 10-speed automatic transmission.
Fuel Economy: It's worth pointing out that the Duramax® diesel may be preferred by those who need to move long distances. Although its maximum capacities are slightly lower, you can expect better fuel economy.
Keep in mind that while your engine is at the heart of your Escalade SUV's towing performance, it's not the only star of the show. The Heavy Duty Trailering Package ensures that you're ready for anything with the following features:
Rear Vision Trailer Camera
Auxiliary Trailer Camera
Trailer Tire Pressure Monitoring System
Trailering Guidelines via your rear camera system
4WD models receive a 2-Speed Electronic Transfer Case
Gas-powered models receive a more powerful cooling system
Find Your New Escalade at Cadillac Of Turnersville
If you're anywhere near South Jersey, NJ, you can find and experience the new Cadillac Escalade at Cadillac Of Turnersville today! With the Escalade towing specs at your disposal, you'll feel like there's nothing that can slow you down. Make an appointment to schedule a test drive today.